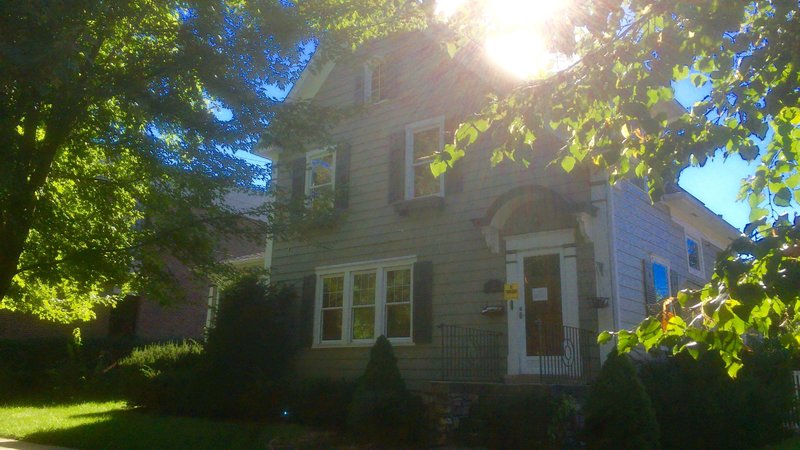 UPDATE: Since first posting this, the CNA worked closely with members of the Porter County Library System's board of trustees. They attended our meetings, listened to our concerns, and ultimately reversed course on their plans to move or raze the home at 105 Michigan. As of the July 2017 library board meeting, steps were being actively taken by the board to ready the home for sale as an in-tact, in-place residence. Sometimes, things actually do work out for the better. Thank you to all who helped make a difference!
For a century now, a public library has stood at the corner of Michigan and Jefferson Streets in Valparaiso's historic Central neighborhood.  The original building, made possible by generous community contributions and a grant from the famous industrialist and public library advocate, Andrew Carnegie, was torn down in 1994 to make way for the modern structure which stands there today.  Throughout its time here, the neighbors and the broader community benefited from have such close proximity and free access to the library's volumes of books, periodicals, music, cinema, and other educational and historical artifacts.
In recent years, however, the long-standing good relations between the library and the people of the neighborhood where it stands have soured.  Fueled by competing visions of the neighborhood, an asymmetrical balance of power in favor of the institution's board of trustees, and ever-increasing mutual distrust, a serious conflict involving the fate of one of the neighborhood's historic homes has erupted.  This isn't the first time Central neighbors have seen such threats.  But, as with past challenges, neighbors and other concerned citizens are coming together with determination to save not only this beautiful home, but also the integrity and character that makes downtown Valparaiso a uniquely walkable and livable space in Northwest Indiana.
In 2011 the Porter County Public Library System purchased the residence located at 105 Michigan Street.  The purchase was the first step of an ambitious master plan that would significantly change the neighborhood.  The plan centered, not on expanding the contents of the library's archives or enhancing the readership of the community, but rather on dramatically increasing the number of parking spaces for cars.  In the coming years, they would go on to acquire several other adjacent properties spending some $0.7 million of Porter County taxpayers' funds and consuming nearly an entire city block to make way for their parking field of dreams.
In recent months additional details of the master plan began to emerge and take shape.  And, from the neighborhood's perspective, it is a heart-breaking sight.  The library released two versions of the site plan — one showing the 105 Michigan home still standing, but with a new driveway passing unbelievably close to its Southern elevation and another, even more audacious vision, showing the house gone in exchange for a handful of extra spaces for cars and what appears to be a drainage swale.  By July 2016, demolition on the site had begun, with the former Lemster's flower shop, another mixed-use building on Franklin Street and the garage of the fated residence quickly made into rubble.  The house itself was, for the time being at least, spared from the wrecking ball.
The obsession with ultra-convenient parking is an all too familiar and unfortunate phenomenon in our American cities.  According to Chuck Marohn, founder and president of Strong Towns and an expert on urban planning, "free parking isn't free."  Marohn says the cost of such plans "are not just the monetary cost of acquiring the land and building the spaces.  It also includes the massive amount of lost opportunity (tax base, jobs, enhanced destination) that devoting so much … area to parking involves.  Since cars and pedestrians don't mix well, a diminished public realm is another significant cost for a parking-centric … development strategy."
Another heavy burden is already being paid the people closest to the library.  As Central neighbor and homeowner at 107 Michigan, Dr. Robert Walsh, recently said, "the hardest thing about this is not having any people next-door to connect with.  When we first moved into our home, we were good friends with our neighbors, Steve and Denise Belke and their daughters Brooke and Haven.  My wife Kim and Denise were best friends."
Dr. Walsh further explained, "it is sad to see the general decline of the lot and the home as there has not been much maintenance done at all.  The yard is really not taken care of and there is generally garbage in the back area.  The house is showing visible signs of deterioration.  It is also sad to see that all of the attention to detail and effort to bring it back to its original condition by the previous owners has been wasted due to the lack of maintenance and upkeep of the home by the library."
The house is located in a Neighborhood Conservation zone, which according to the Unified Development Ordinance adopted by Valparaiso in 2009, is intended to "preserve existing residential character and discourage conversion of residential uses to other uses."  While, technically, the zoning does not prevent an owner from demolishing a residence, it does prohibit non-residential uses without some special use permit or variance from the city's Board of Zoning Appeals ("BZA").  The library board has indicated that they are confident that they can obtain the necessary accommodations to implement their plans.  But Valparaiso's Central Neighborhood Association ("CNA") intends to prove otherwise.
"We have a long and strong history of fighting for what we believe in." said Bill Durnell, president of the CNA.  "It's really sad.  I honestly cannot imagine how they came to this decision.  Our observations as close neighbors and frequent patrons of the library tell us that an available parking spot is rarely, if ever, more than a block or two away.  Yet they remain intent on either moving or razing this beautiful, historic home.  Neither of those outcomes is acceptable.  A family should be living there.  We are disheartened, disappointed and disturbed by this board's actions and attitude," Durnell continued.
"BZA is our last, best hope.   We intend to bring the full strength of our engaged citizens to bear on this issue to keep the home zoned as-is and return it to its original use as a family residence," Durnell said.
---
To save 105 Michigan from the wrecking ball, please sign this Change.org petition.
Get involved. Make history.